Rhode Island deep sea fishing
Have you thought about going on an adventure to enjoy yourself? Rhode Island is a good location where you can engage in deep-sea fishing, surfing, and a Place to relax. Rhode Island is filled with blue waters, reels and has many species of fish.
Deep-sea fishing: An overview
Deep-sea fishing entails being out in the waters using fishing charters where no one from the shore can see you. Rhode Island is a great place where deep fishing takes place with a charter boat because the waters are at least 120 feet deep.
Why many people love deep fishing is because you are assured of finding fresh and saltwater fishes like marlin, sailfish, croaker, and Tuna. These fish species are easy to catch if you use a Hook, line, and net. Before embarking on deep fishing in Rhode Island, it is important to get Fishing charters services like 401fishing charters.
Fishing charters improve your chances of having an unforgettable fishing experience at affordable rates.
What to consider when going on deep-sea fishing
Deep-sea fishing in Rhode Island and New England comes with many experiences which include:
Brings you closer to nature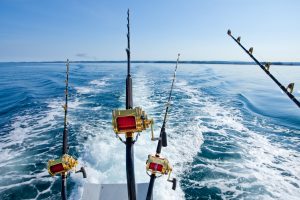 Deep fishing in Rhode Island ensures you get to see the best that mother nature has to offer. You will be able to spot seagulls, dolphins, and other rare fish species.
There are also small fishes and aquatic animals like prawns that can be found. If you are looking for Tuna though, you will likely find dolphins because they move together. While, you can fish for Tuna, avoiding killing dolphins in Rhode Island, because they are protected.
Moreover, you will find some medium-sized fishes using fishing charters near the reef where the bigger fishes feed.
Motion sickness
Seasickness is worth considering when you are going to Rhode Island for fishing offshore trips. While a deep fishing trip is expected to be entertaining and educative, if you are prone to motion seasickness, it will turn out bad. If you are vulnerable to seasickness, you will have to take several medications which can help you on your journey.
Hire experts
It is a great idea to always have someone who knows and understands deep sea fishing when going to the east coast. This is particularly true for beginners who haven't gone on alone for deep fishing. The guide will be able to inform you about the best way you can enjoy your fishing trip.
Picking the best Fishing charters
When thinking about deep-sea fishing, ensure you get reliable and affordable fishing charters services like inshore fishing charters and offshore fishing charters. This is important because these charter services will be able to provide you with the best fishing boats you will need, crew members, and gears to take along.
The most popular Deep-sea Fish species you can find on a fishing trip
Here are some amazing fish species you can find around Rhode island:
Billfish
A rare fish species which can be found at most beaches in Rhode Island. Although billfishes at scattered around the world, they are in large quantities in Rhode Island. Anglers using charter boats love targeting these fish because of their appearance and taste.
Tuna
When it concerns deep-sea offshore fishing in Rhode Island, tuna is arguable the most sort-after fish species. They come in yellowfins and bluefin. The bluefin Tuna usually grow up in big sizes and can be very aggressive.
Yellowfish can be less aggressive but they are very strong and difficult ocean fishes to catch.
Pelagic fishes
Wahoo and Mahi Mahi are top of the deep ocean fish targets for many anglers and fishermen visiting Rhode island. They can be fun to chase in a charter boat and grow very big in a short time. Sharks.
Often regarded as a dangerous bunch, these sea predators are underrated.
Thresher, amberjack, barracuda, and cobia
These might not be popular sea species you are used to when we talking about deep-sea offshore fishing, but these sea-dwellers offer an exciting deep-sea adventure. You can find them in waters that are around 260 feet deep. They are good targets for beginner anglers who want a bit of action.
Snapper
Sometimes called known as Red Snapper. These are fishes that give anglers trouble when fishing in Rhode Islam. Even the locals are often sent into a frenzy when in contact with this fish. They have excellent taste and provide good action for anyone who wants a good fishing experience.
Sea Bass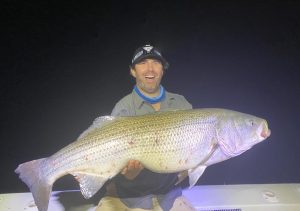 This is another marine fish that is highly hunted by anglers. The family of black sea bass is huge, however, you get a sea species with great taste. It is a good source of protein and fat. There are many around Narragansett Bay.
Springers
These are salmon fishes that offer anglers a good diet and are in large quantities in Rhode Island. Springers are quite expensive in the market which makes them a highly sort-after marine species.
Best spots for Deep fishing in Rhode Island
When considering going for a charter boat adventure in Rhode Island, here are some great spots to consider:
Watchaug Pond Charlestown
Watchaug Pond can be found along the routes of Burlingame State Park, which is one of Rhode island's biggest and most appealing parks. This deep-sea pond features good fishing boats, fishing gear stores and is a good place to engage in deep-sea fishing.
Olney Pond, Lincoln
This area of Lincoln Woods State Park is filled with many natural hiking trails, great picnic spots, and many interesting places to fish in Rhode Island. It is a good fishing charter location in Rhode Island and has about 135 acres of space where you can fish. You can find fellow anglers, surfers, and other marine users at this location.
Wyoming Pond Arcadia
This is a management area with a pond connected to the Wood River. You can access this place passing the Skunk Hill Road close to the Wyoming village. Some fishes you can find at this location are pickerel, bluefin tuna, black sea bass, and panfish and they are in great numbers.
Mount Hope fishing access, Bristol
This nice deep charter fishing location can be found around the Annawamscutt area in Bristol Town. It is a saltwater spot that provides a beautiful place where you can watch the birds, hunt for saltwater fishes, and have a nice surging experience.
Ninigret Pond, Charlestown
This national wildlife refuge place is sometimes regarded as the most breathtaking place to enjoy deep fishing in Rhode Island. It covers a diverse upland, wetland and it is a natural habitat to fish and enjoy a juice day. The pond is known as the biggest coastal pond in the state and provides a fertile charter fishing ground.
Brenton Point State Park, Newport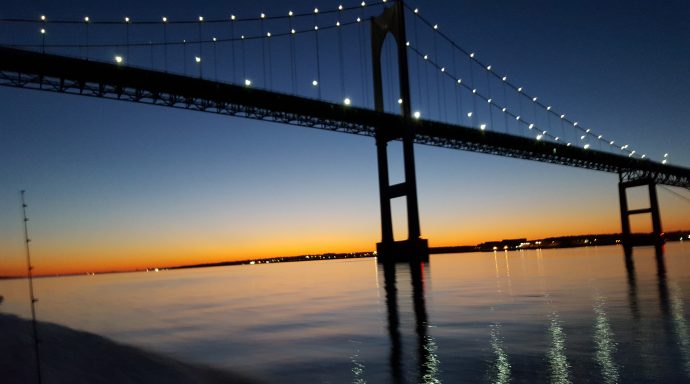 When considering a place where you can enjoy your spare time, and have an excellent deep fishing experience in Rhode Island, this park in Newport comes to mind. It is an ideal choice for renting surfing gear, charter boats, fishing boats, and surfcasting all day.
Point Fishing Area, Tiverton
Point fishing area is a location in Rhode Island, that offers a diverse coastal life and offers a beautiful place where you can enjoy deep fishing. The locals are friendly and the weather is good for charter fishing and catching striped bass.
Goat Island Connector
This is a bridge in Rhode Island that links Newport and goat Island. It is commonplace for whales watching. It is quiet and offers an excellent location to catch saltwater fish and Tuna. You can set up your shop along with the curbside parking place before charter fishing.
Echo lake, Pascoag
The echo lake also known as Pascoag reservoir is a great freshwater fishing location around Rhode island. This place offers you the best nature can give you and anglers can find some rare fish species at the location.
Carbuncle Pond, Coventry
This is a 50-acre pond in Coventry that boasts nice views and an excellent freshwater charter fishing experience. Many anglers come to this place regularly via charter boat.
Wallum Lake, Burrillville
This lake sits along the border of Massachusetts and Rhode Island and you can get some great bass fishing in this location. It is a great place for whale watching and has some rare pelagic species of fish.
Deep-sea fishing safety tips
When you are in the ocean, it is important to choose ideal areas to find fish. When you get to the best places to engage in deep-sea fishing, you can use a fishfinder, or nautical map to find the exact location to fish.
Safety is important when charter fishing in Rhode Island here are some recommended safety tips:
Rocks, reefs, and wrecks
When deep sea fishing in Rhode Island, you will see different structures of reefs which offer a haven for many fish species that many people use. Be careful when fishing near natural and artificial reefs because the fish may be staying as far as 159 yards from the reef.
When fishing for popular fish dwellers like grouper and blackfish, consider anchoring the fishing boat near the reefs and dropping the baits as deep as possible. However, for high-speed marine fish like Yellowfin Tuna, bluefish, and Billy fish, you can use live baits and fishing lures.
Towers and Navigational aids
Using structures like navigational aids and towers is common with both surfers and anglers. Many fish species hide inside the structures while some prefer to move around the perimeter.
To find the best way around this dilemma, use a recreational sonar to find them, also ensure you adhere to the local laws which might limit your access around the area. You could try to Troll natural baits around the body to get the fish to notice you.
Hills and seamounts.
Submerged valleys and mountains affect the range and divert the best sports for deep-sea fishing. Seamounts offer fish and marine species with ideal water conditions, salinity, and water temperatures which helps with their mobility. If you are fishing around these structures, check for surface variations like ripples and tide lines.
The best way to solve the fishing charter problem is using natural or artificial baits. Most marine animals will stay in the same area, so try trolling them, if you succeed in hooking one, mark the location on your GPS and return to the fishing charter spot.
Kelp forest and beds
Kelp forests can be found in many polar marine places, however, they are common in Rhode Island. There are large congregations of kelp plants which are known as forests while the smaller ones are known as kelp beds. These forests and beds are made of kelp and offer a productive ecosystem for marine species.
When deep sea fishing around kelp forests and beds, anglers should begin by throwing dead baits or free lining live. If this doesn't work, then try to add some weight to your rig.
Coastal waters
Rhode Island is filled with coastal waters which are close to the shores. There are several sections exposed to rock, coral, and debris. These areas provide a good ambush location for marine fishes.
Many fishes in these areas stay very close to the sea bottom but come near the cover and coral reefs to feed. You can ambush them anytime they come for their meals.
These areas are top deep sea fishing charter spots because you can find many fish species there and they are easy to access.
Northeast Canyons and the continental shelf
Deep canyons, Cliffs, and gorges are good places to look for fish in Rhode Island. Find changes in current and water location which might intersect the shelf.
These variations might force the nutrient-rich water up which will make pelagic fishes like wahoo and billfish come up to feed.
Halibut, grouper, and other big fishes might be a bit difficult, however using sea fishing charter techniques like trolling artificial and natural baits. For bigger fishes, use large jigs and heavy-duty rigs to get your baits down.
Conclusion
When considering going for a deep sea fishing experience, it is important to understand where you are going, choose a good deep sea fishing charter location in the place, and use the above tips. Also, consider contacting a reliable fish charter service that can offer you the best services available.