The goal for any fishing trip is simple, catch lots of fish and have fun while doing it. Some people prefer to use artificial lures like stick baits, swim baits, jigs, soft plastics, and trolled offerings. The traditional fly fisherman like to hand tie their own flys to get a bite. Many shore fishermen and others alike prefer to use fresh chunk bait to entice fish. While any style of fishing is of course personal preference, no one will argue that the most productive means to getting a bite is using live bait. Whether you're a weekend warrior or a seasoned tournament angler, knowing how to fish live baits will help you catch more fish. In this article, I'll go over some live bait fishing basics and the methods I like to use to catch big fish.
Which live baits are best to use?
The answer to this question is quite simple. The best live bait, no matter the situation is always what your target species of fish are feeding on. If the fish are not specifically feeding on one type of bait, then try to offer them a bait that they commonly eat. If the fish are concentrated on a specific feed, be sure to use that exact bait, as they typically will not touch anything else. A wounded or stressed bait fish emits certain distress signals through the water. These signals act as a dinner bell for hungry game fish and will send them into an instinctual feeding mode. There are hundreds of common baitfish that people use all over the world. I'll discuss some common types in the U.S. with a focus on the baitfish here in the North East. In the southeastern parts of the U.S. common bait fish are mullet, ballyhoo, pinfish, threadfin herring, Atlantic sardines, goggle eyes, squid, and blue runners. On the west coast, they prefer Pacific sardines, northern anchovy, Pacific mackerel, California squid, smelt, and Pacific herring. My charter business, Tall Tailz Charters is based out of Newport RI. Here we primarily target striped bass, bluefish, sharks, tuna, tautog, and fluke. Our preferred live bait options are pogey or menhaden, Atlantic mackerel, American eels, scup, squid, sand eels, cinder worms, whiting, and crabs. The key is to use whichever bait your target species is feeding on. A good trick to find out what they're eating is to simply cut open the stomach of your legal catch and see for yourself. Often, you'll be surprised by what you find in there!
How do you fish live baits?
I don't care what species you're targeting, which bait you're using, or what body of water you're fishing. The goal of presenting live bait is always the same; make your bait look as natural as possible. To do this we must ensure a few things are done right. I always use a clean, unmarked fluorocarbon leader as light as possible. For striped bass fishing, I typically use 4-6 feet of 20-25 lb fluorocarbon tied directly to the main line via an FG or uni knot. I want as little visible terminal tackle as possible, especially during the day. I always try to use no weight to present the bait as naturally as possible and keep the bait swimming as naturally as possible. Generally, bait fish instinctively go to the bottom to seek shelter in the rocks and weeds. If you're fishing deeper water or there is strong wind or tide, sometimes you must use weight to help your baits get down.  I use only as much weight as I need to get my baits in the strike zone. Sometimes this is as little as one or two small split shots. At times I will use an egg sinker or a 3-way set up with a bank sinker attached. When my baits are swimming with no weight, I keep the reel in a free spool and let the bait swim down until it gets smashed.  When a fish hits a bait while in a free spool, I always do a few things. First, I count to 3 to ensure the entire bait is in the fish's mouth. I then engage the reel without jerking or setting the hook. I simply lift the rod tip up to apply pressure. The resistance of the fish running with your bait when you engage the reel will set the hook for you. If I'm forced to use weight, I typically keep the reel engaged at strike and slowly jig the bait or simply dead-stick the rod in my hand. When doing this technique, I pay close attention to bumps and set the hook quickly or slowly applying pressure, depending on which type of hook I'm using. I'll get into that in the next section.
Which hooks do I use for live bait?
In my opinion, the hooks you use are the most important part of the live bait equation. Fish strike live baits differently than anything else so having the proper type of hook and attachment method is crucial. When striped bass fishing in a free spool, I use a small J hook, size 4/0- 5/0 for lighter baits like eels, cinder worms, sand eels, and squid. For larger baits, I'll use anywhere from 6/0 to 9/0 depending on the size of the bait. For eels, I rig the hook through their lower jaw and up through their upper jaw. For larger baits like scup, pogie, and mackerel, I'll hook through the snout, as striped bass typically strike headfirst. When I'm using weight or leaving the reel engaged, I prefer to use a circle hook. Again, varying in size depending on the size of the bait. When fishing for tuna or sharks I use larger circle hooks from 9/0-12/0 and keep my reel in a very low strike, usually around 7-10 pounds. As the fish hits I slowly increase the drag to ensure a solid hook set in the corner of the mouth. Many times, I prefer to bridle the baits to circle hooks instead of directly hooking them. This method is rather simple. Loop a black rubber band over your circle hook. Using a rigging needle, attach the rubber band and thread it through the snout or eye socket of your bait, pulling the rubber band through. Place the bitter end of the rubber band on the hook and spin the hook 3 times until it's tight. Then simply loop the rubber band back over the hook a final time to lock it in place. The purpose of bridling is to ensure a good hook set since the entire hook is visible and unblocked by the bait itself.
What gear should I use for live bait?
 Each style of live bait fishing and the species you target are different so your equipment must match accordingly. For inshore fishing on our striped bass charters, I like to use 6' 6" medium power, mod fast action spinning rods built by Crafty One Customs. I pair these with Daiwa Emcast LT bait runner 5000 spinning reels. This allows the option to go in and out of free spool mode with the click of a button. The line we use is a 30 lb Cortland Line master braid and Cortland Line fluorocarbon from 20-40 lb.  The hooks we use are VMC J hooks size 4/0-6/0, black nickel finish, and VMC circle hooks size 6/0-9/0, black nickel finish. On our nearshore tuna charters, I like to use 5-foot 30-50 lb conventional rods built by Crafty One Customs. We pair these with Daiwa Saltiga 60 2-speed reels. I use an 80 lb Cortland Line hollow core with 100 lb Cortland Line wind on mono leader. We use VMC tournament circle hooks 8/0-10/0. For our shark fishing charters, we use 5' jigging world 450 G ghost hunter rods built by Crafty One Customs paired with Daiwa Saltiga 20000 spinning reels. I like to use Cortland Line 80 lb hollow core, 300 pound Cortland Line mono shock leader, single strand wire, and VMC tournament circle hooks size 10/0-12/0.
How do I catch live baits and keep them alive?
The easiest way to get live bait is, of course, buying them. But, that's not always possible. For baits that school up heavy, you can use a cast net to corral large groups of them at once. Typically, a 6-8 foot cast net is all you need to get a decent amount of bait. Other baits can be caught in pots like eels, crabs, and cunners. Then there's tried and true method of simply catching them on rod and reel. Many baits like mackerel and whiting can be caught using a sabiki rig. Other bottom fish baits like scup and snapper blues can be jigged up using a basic bottom fishing rig. Once you've got your bait you obviously need to keep them alive. The best way to keep your baits happy and healthy is to keep them in a large live well with a good flow of water and plenty of dissolved oxygen. If you don't have a live well on your boat or you're fishing from shore you can either "snag and drop" which means catch your bait and deploy it back down, or you can use a bucket with an air pump. Some live baits are harder to keep alive than others. Keys to healthy baits are plenty of water flow, enough dissolved oxygen for each baitfish, not overcrowding your live well, and not letting your water temp get too warm. A common rule of thumb is to have a minimum 500 GPH flow of water for every 25 lbs of bait. On my boat, I have a 30-gallon insulated live well and run an 800 gph inline live well pump with an aerator attachment. The attachment essentially "injects" dissolved oxygen in with the flow of fresh water, keeping my baits happy and healthy.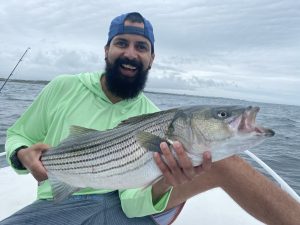 Conclusion
Live bait fishing is recognized around the globe as a surefire way to catch more fish. Game fish of all sorts can detect a lone, distressed bait fish and will almost always strike when given the chance. Keep your baits swimming easily and present them as naturally as possible. Use as little terminal tackle and the lightest leader material as possible. Try your best to "match the hatch" and offer baits that you know your targeted species are either feeding on or prefer to feed on. Know the differences between J hooks and circle hooks and when to use them. Try bridling your baits to ensure better hook-up ratios. Be sure to use the right equipment and always take proper care of your gear. Lastly, keep your baits happy and healthy. Healthy baits swim faster, are stronger, and will always entice a better bite than lethargic bait. Try combining some of these tips on your next fishing outing and witness the magic of live bait fishing!