7-25-2020
Striped bass fishing hasn't slowed down a bit, there are plenty of slot fish for those looking to take some meat home, and we have also seen an increase of larger fish in the 30-40-pound range.
Live bait has remained a top producer, but the tube and worm on the troll has been producing as well. There are still some true gator blues mixed in, although they've thinned out a bit. Fluking remains tricky on the usual haunts, due to an abundance of shorts, you're best bet is to work smaller pieces of structure and use tight drifts when you find some keepers.
The nearshore shark fishing has been great with loads of blues and makos within 10-20 miles.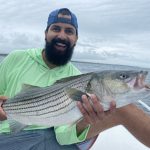 7-7-2020 Newport, RI - The Striped bass were hitting tube and worm as well as the doc for a lot of top water action. Blue fish were giants.  The blue fish were also hitting tube and warm and they loved the top water action. This trip we went out as commercial not a charter. The boat was located right out in front of Newport, RI. The Blues were heavy near Prudence Island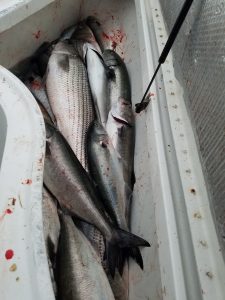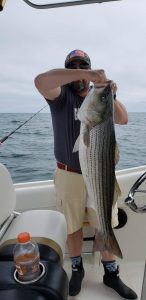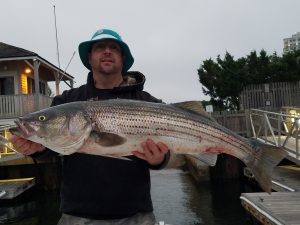 6-25-2020 Buzzards Bay MA - Last week we went out with Capt. Mel from Fishnet Charters. His fishing charter is based out of Mass. He does a lot of fishing and charters in Rhode Island though. We left out of Taylor point marina in Buzzards Bay.  Sea Bass were hot and heavy. Also, we caught a lot of jumbo scup.
Two reports from Capt Mike Littlefield from ArchAngel Charters and Connor from Tall Tailz Charters
Mike reports the Striped bass are hitting live porgy around 545PM til around 9PM.  The morning run has been good too.
Connor reports on bottom fishing. Sea bass are everywhere from 30-100 ft. Larger numbers around 60-70 ft. A few cod Still mixed in. Fluke are holding on deep water drop offs.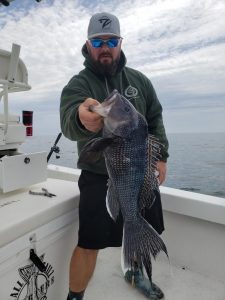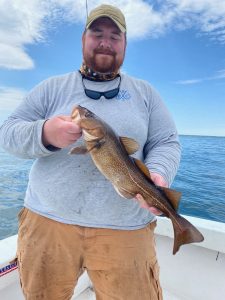 5/31/2020 Out in front of Newport there were a lot of sizeable sea bass - A LOT of babies out there. A couple sizeable flukes. COD was mixed in there as well. Thankfully no sea robins this time around. Inside the bay towards the MA line we only caught one 34 in stripped bass.  We were not marking them as we normally do this time of year.
5/7/2020 Narragansett bay tautog is on
. Schoolies are everywhere north of Newport bridge, water temps are perfect now and fish are starting to cooperate.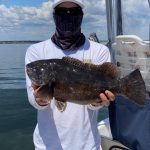 4/29/2020 - Tautog is biting in Newport RI. Reports are in the range of 16-20 inches.  No Squid reports as of now.