2022 Fishing Reports Rhode Island
7/15 Cambo Fishing Charters are reporting small tuna right outside of Chatham MA.  They have dialed in on the small tuna and have also landed others. If you are looking for a Cape Cod Tuna Charter, give them a call now.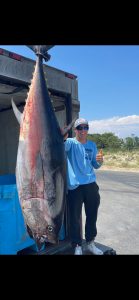 7/13 They are reporting jumbo sea bass in the Narraganssett bay, right out in front of Newport.
7/7/2022 Capt. TJ Harris is giving a PSA from their Facebook page listed below: "Heads up if you're running around Newport, especially at night. Green can #5 off Tracey ledge, in between Rose island and goat Island is almost all the way submerged. I reported it to the CG but keep an eye out if traveling the area."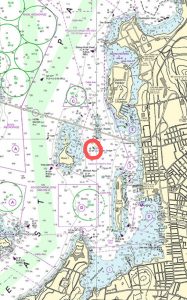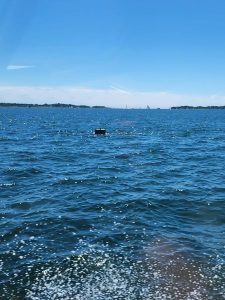 7/1/2022 We currently took a charter from Plymouth Mass and we were right near the power plant and were hammering slot limit striped bass.  Yes, there were a lot of lobster pots you had to go around.  Just be careful out there and you will be fine.
Our friends at Cameo Fishing Charters went out scouting for squid.  Capt. Cam is reporting Squid is in Hyannis Mass.  Capt. Cam is currently doing a few open boat charters for Squid out of Mass. Give him a call or send a text to (508) 525-1922 You can also contact him on his website here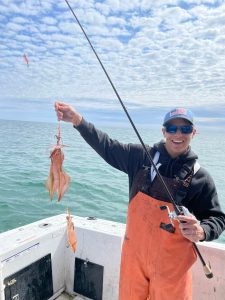 We will be updating our Fishing Reports when they come in! We wish you the best this fishing season!
Our ri fishing report 2022 will be starting here shortly. This will also include the Narragansett bay fishing report. The Narragansett fishing report will be most likely posted by Capt Mike or Capt Connor. Our bass report is slim right now since the bass is migrating up to the Rhode Island waters.  Our striped bass report will be the same Capts as last year, we might add one or two new ones.  Tautog is a nice size this season so far, that is what has been reported!
Want to see our previous years' fishing reports for RI and MA 2021 Fishing Reports 2020 Fishing Reports