Congrats to Capt. Connor from Tall Tailz Charters for landing a Rhode Island state record on his boat today.
The official weight of the blackfish (Tautog) it was 21.57 lbs.  The last record was 1954—well done Capt.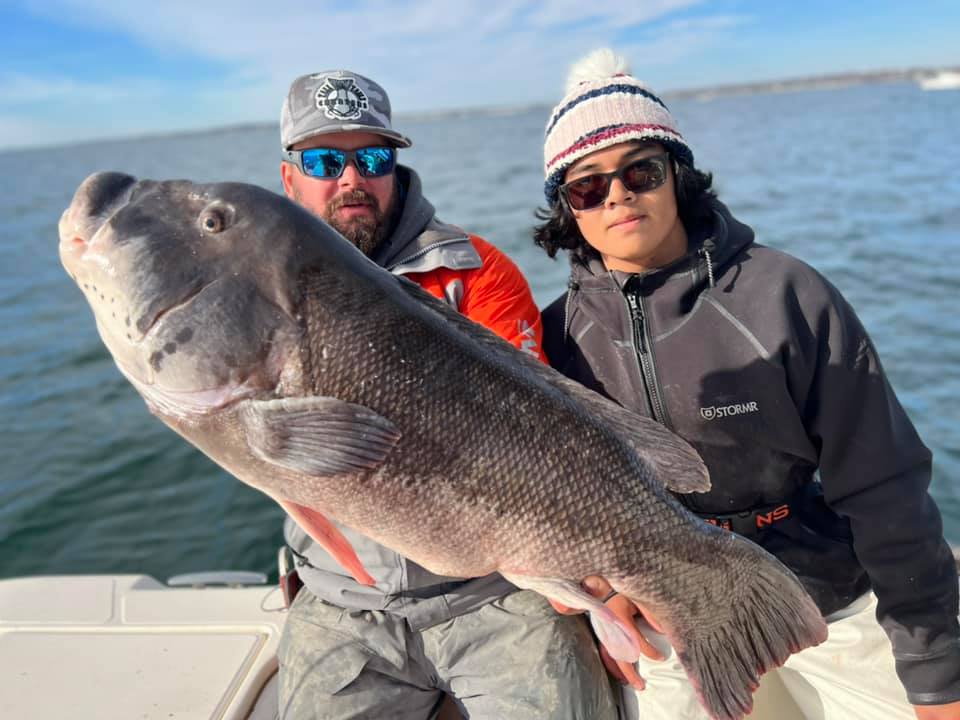 Going on a vacation has recently become the new medicine for unwinding after a long day of work. It has evolved into an ideal time to catch up with family and friends. However, what better vacation experience than visiting Rhode Island and making memories of tautog fishing?
Do you live in or near Newport, Rhode Island, and enjoy fishing? So here's the deal: charter fishing could be a once-in-a-lifetime experience. However, once you've decided on these experiences, make sure that the fishing charter such as Snug Harbor Marina has a valid charter fishing license.
Tautog and Cod Fishing
Tautog fish are bottom-feeding saltwater fish that live in the Atlantic Ocean. They can also be found in Narragansett Bay in Rhode Island. Tautog, also known as blackfish, grows slowly, reaching up to 3 feet. The fishermen can easily catch them while fishing. It's worth noting that the blackfish is prone to overfishing. Tautog fish are best captured during the day on your charter fishing trip because they are dormant at night.
Blackfish fishing is on fire. "The most fascinating thing is that shore anglers fishing jetties and rock piles close to shore are always doing well. They are catching keeper fish every time they go out."
The tautog bite in the mid and upper Narragansett Bay has been outstanding. The tautog bite is still very good with most boats limiting out—however, the edge in the Bay with calmer waters is produced for anglers.
Tips for Catching Tautog
Rod and Line for Fishing
Having a longer rod for tautog, ideally something at least seven feet long with a bit of backbone. The longer rod allows you to raise the rod further from the water while setting the hook, thereby luring the fish away from the structure. A Braid line will enable you to make more direct contact with the fish to feel the bite, and it does not stretch like a monofilament line, allowing the fish to return to structure.
Chumming is Essential 
You can think of carrying a few gallons of crab on your trip purposely for charming. Charlie's chumming technique is simple. He uses cutting shears to cut the legs off green crabs (he also uses Asian crabs), then cuts the crabs in half and throws them in the water throughout the fishing area.
Anchoring Trumps Structure
Consider having a heavy anchor for your boat approximately, 20 pounds with 20 feet of chain. It will allow you to get away with less scope and position the vessel more accurately over structure. The scope ratio is closer to three to one than the seven to one or ten to one ratio typically recommended based on conditions.
Hooks with Sharp Points
Tautogs have stiff lips, and sharp hooks are required. Anglers spend so much time and money fishing. Why scrimp on hooks? Lazar Sharp angles are more appropriate.
Finesse the Rod
As you ride the swells, finesse the rod. When the boat is rising and falling due to ocean swells, you have to finesse the rod, making every effort to keep that bait on the bottom in the strike zone. When the boat rises, lower your rod to stay on the bottom, and when the boat falls, raise the rod to take up the slack so you can feel the bite when it occurs.
Rhode Island State Record
Tautog (or blackfish) has delicious white flesh and is commonly caught in Rhode Island during the fall (there is a short spring season). They look like groupers but are much smaller. They live near or in rocks and are rarely sold in fish markets due to their difficulty in commercial catching. Tautog baits include crabs of all kinds, tautog jigs, and some anglers use clam worms in the spring.
The state record for tautog in Rhode Island is 21 pounds, 4 ounces, set in 1954. Dareus Diaz Boragine of Cranston was on the verge of breaking that record on Saturday, October 3, 1966. He caught a 20-pound, 2-ounce tautog off the coast of Newport. Here's his take on the catch.
Tautog Fishing Laws
The Marine Fisheries Council discussed and voted on recreational fishing regulations for 2021 on Monday, March 1. The Council made recommendations on both recreational and commercial fishing regulations. The Director finalizes all fishing regulations.
The pandemic hampered data collection on recreational catches. Anglers not only had an irregular fishing pattern, with some areas having more and others having more minor, but surveyors who conducted boat ramp, fishing pier, and dockside interviews with anglers were unable to complete needed surveys.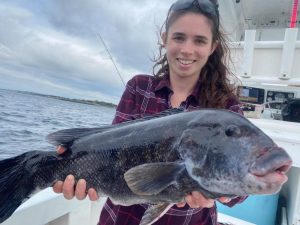 Furthermore, anglers were given a pass on more conservative catch limits in 2020. Fish managers figured out how to implement new research findings that showed recreational fishers were harvesting more fish than initially thought when allocation shares between the recreational and commercial sectors were set.
According to the Marine Recreational Information Program (MRIP), they now have more robust recreational data, which provides data for establishing recreational harvest estimates and limits. A change in methodology resulted in better data, mail surveys to homes, and an increased number of intercept surveys at docks, boat ramps, and charter and party boats.
Block Island Fishing
Fishing on Block Island in Newport has some of the most beautiful spots on the east coast. Striped bass is known to call Block Island home. These are because the block island waters are densely populated with a wide variety of fish.
Block Island offers a plethora of fishing options. Snug Harbor Marina has a charter fishing fleet and rental boats to take you out on the Great Salt Pond, Block Island Sound, and, of course, the Atlantic Ocean in search of striped bass, bluefin tuna, largemouth bass, mahi-mahi, shark, and other species.
Experience Black Sea Bass Fishing in Newport
The experience of blackfish fishing will undoubtedly be one that you will never forget. Everyone who visits Newport departs with fond memories and extensive knowledge of this city, the ocean, and aquatic life, which includes the blue shark, among other things.
A tautog fishing experience will ensure that you have an unforgettable trip where you encounter stripers and fish with exciting features such as a colorful dorsal fin. Is Rhode Island a popular fishing destination? It is a perfect destination for fishing lovers. We are hoping that one of our charter captains will kick off the tautog season RI 2022 in style with their Personal Best (PB). If you are interested in the Long Island Sound Fishing Report click the link here