RI fishing license
Fishing has been proven to be one of the most peaceful recreational activities anyone can engage in. Rhode Island (RI) has always been the center of attraction for tourists, surfers, and visitors who desire a cruise on the sea. Rhode Island is located in the United States of America, sharing intermediary borders with New York, Connecticut, and Massachusetts. We will walk you through on getting your RI Fishing license for recreational saltwater fishing. Are you asking do you need a fishing license in Rhode Island? Yes, you do.

It is a state popularly known for its freshwater and saltwater shores. Rhode Island which is positioned in the New England region features a humid climate that handles a monthly fluctuating temperature of -7°c (20°F) when low and 28°c (85°F) when high.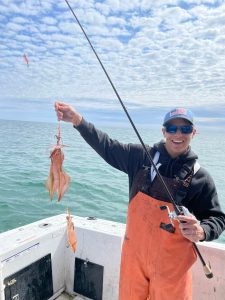 Amidst other tourist potential centers in the state, its oceanic climate, numerous sightings of oceanfront beaches, bays and island and shores, and a shoreline with Narragansett Bay and the Atlantic Ocean, RI has always been a place to spend quality time.
Based on the large entrance of visitors into the state; Residents and nonresidents, and the surging drive to navigate its waters, the government of Rhode Island, Department of Environmental Management, DEM, set in place restrictions to guide, protect and teach anglers and spearfishers rules to hunt, fish or game in its regions. These regulations enforce the use of licenses for all sea users.
Rhodes Island Fishing License is spread out into different categories; Commercial fisherman, Recreational Fishing License, Party and charter boat license, recreational lobster license, and recreational shellfish license. The freshwater or saltwater fishing license is open to residents and non-residents depending on their fishing needs.
Is Fishing allowed in Rhodes Island?
Fishing is allowed on Rhode Island all through the year, and through different hours of the day. However, the open season fishing is excluded from Trout Fishing. During the raging reign of Covid-19, DEM set up a system that strictly guides anglers on their fishing routine. This was to ensure social Distancing and adherence to national health safety laws. This system mandates that anglers can only fish, based on the days their last name fell into. However, this restriction was lifted on the 4th of May, 2020 but there are still regulations on Trout Fishing. Trout Fishing officially opens annually in Rhode Island by 6 am on the second Saturday in April.
Fishing across state lines, borders, and boundaries of Rhode Island actually depends on the location of the border. Rhode Island shares borders with a few states, however, navigation through these borderlines is strictly guided by DEM regulations and compulsory use of a license. There are certain borderline waters that DEM permits anglers, fishermen, and spearfishers to have access through.
They include;
Connecticut Border: Pock Pond, Hazard Pond, Killingly Pond, and Beach Pond
Massachusetts Border: Wallum Lake
All of the borderlines are for open season fishing and there are no limitations on day and season of fishing, as long as a license is hung during its intervals. Who is restricted from getting a Rhode Island Permit? Some individuals are placed under restrictions from having access to an RI license.
These set of people include;
Military Duty Anglers: These include actively serving military personnel who are on leave.
Kids below the age of 16.
Physically disabled, blind, or handicapped.
Anglers who already have a high migratory angling species permit or those enjoying the benefit of a licensed party or charter boat license.
It is important you note that fishing licenses are issued according to your purpose for fishing. Commercial fishermen who receive a commercial license for recreational purposes will receive recreational fishing licenses, and non-fishing passengers who are on a licensed party or chartered boat for fishing are restricted from hunting fishing, or engaging in any spearfishing activity, as they will be punished if laws default.
Only individuals with the possession of a license are granted full opportunity with the waters. Passengers with a recreational saltwater fishing license are advised against using hooks, lines, or bait that might involve piercing, spearfishing, cast nets, umbrella nets, minnow traps, eel pots, or the Seine as this is against the regulation.
However, non-residents might be restricted from harvesting blue Carps, according to the DEM. A non-resident fisherman is still entitled to all recreational fishing activities as well as residents, as long as there is a recreational fishing license.
Although, senior citizens of Rhode Island who are above 65 years are entitled to obtaining free licenses annually. Anglers between the age range of 15 and above are permitted to obtain a Recreational freshwater fishing license. A recreational saltwater fishing license is reserved for anglers of the age range of 16 and above. An Angler is anyone that catches fish with the use of a fishing rod, hook, and a line. An Angler might decide to advance his fishing skills by using fishing reels, but the bottom line remains, that the mechanism of angling is always followed. Anglers with licenses on Rhode Island are permitted to use hook, bait, and line to catch fish, as long as they stick to regulations and fish in appropriate waters.
How much is Fishing License in Rhode Island?
Fishing License in RI comes in different pay ranges varying for residents and non-residents.
Residents License – $7(Annually)
Nonresident – $10(Annually)
Resident(65 years and above) – Free(Annually)
Resident/Non Residents – $15(7 day license)
How much is a GA fishing license at Walmart?
We will compare the RI Fishing License to Fishing License in Georgia (GA). It is still largely allowed, but a license is usually issued out to participants for regulations.
Walmart offers fish licenses to different states in the US. This is not restricted to GA but also RI and MA fishing licenses.
A fishing license in Georgia GA on Walmart costs as follows;
Resident licenses(16-65) – $19 (Annually)
Residents (66 and above) – $10 (Annually)
One-day Resident license -$11
Non Residents – $40 (Annually)
Non Residents – $19 (3 days)
Is a CT fishing license good in RI?
Every state is bound by its unique regulation and laws. Most times, a license that is specific to a state might not work in another state in the US. Each state is peculiar to its License. Although, this is slightly different between states like New York, Connecticut, Massachusetts, and Maine as they share close borders. Through the help of bilateral agreements, anglers holding CT fishing licenses can swim across the RI border.  These agreements make the possession of a recreational fishing license, fishing license CT, or fishing license ma viable for usage in both states. Fishes caught across the waters and shores of Rhode Island can be kept. As long as these fishes are caught following DEM regulations and in the possession of a license. These regulations include the daily limit of fish catching.
Where can I find fish ponds in Rhode Island?
Rhode Island is a large state which occupies a landmass of 1,045 sq mi. (2,707 km²) and a water mass of 169 sq mi. (438 km²). Its 13.9% water covering is quite significant to spot water bodies around, but you need a quick guide to get you some of the best ponds around Rhode Island.  Some fish ponds that allow anglers the opportunity to catch fish using a license include;
Mount Hope Fishing access, Bristol
Olney Pond, Lincoln
Beavertail State Park, Jamestown
Point fishing area, Tiverton
Wyoming Pond, Arcadia management area.
Brenton Point state park, Newport
Watchaug Pond, Charlestown
Ninigret Pond, Charlestown
What fish can I find in Rhode Island?
There are numerous fish species that can be caught on the shores and waters of RI using a license.  Don't forget you will need a recreational saltwater fishing license.
These include;
American EEL
Common CARP
Chain pickerel
Brown Trout
Brook Trout
Blue Fill
Black Crappie
Brown bullhead