Rhode Island and the Striped Bass
A special bond
It's no secret that Rhode Island has one of the best fisheries in the northeast. Any and all inshore species can be caught in abundance along the southern coast of the state and inside Narragansett Bay. Squid fishing is stellar all spring. Shark fishing is lights out from June-September and can be caught only a few miles from the beach. Pelagics can be targeted as close as 20-30 miles offshore when the gulf stream eddies to the west. In late summer and early fall, Rhode Island waters are inundated with bait, attracting seasonal hard-tail visitors. It's a light tackle enthusiasts' dream. And still, the one species that will forever reign supreme in these waters is Rhode Island's official state fish, the Atlantic striped bass. Of all the eastern states that the striped bass calls home during its migratory journey, Rhode Island has by far the best real estate. Sandwiched between Montauk and the Elizabeth Islands, this stretch of the ocean has been the mecca for trophy-sized bass for many years. While New Jersey and New York can fish the early spring striped bass run and areas North of Boston can fish the early fall run, Rhode Island is smack in the middle of the action. We have exceptional striped bass fishing from May-November with no real downtime.
Tall Tailz Fishing Charters
My charter fishing outfit, Tall Tailz Charters is based out of Newport RI. 80% of our trips are striped bass charters. These striped fish are abundant, aggressive and they put up a hell of a fight on light tackle gear. We primarily fish live baits and topwater stick baits on spinning gear. In the springtime striped bass are in Narragansett Bay targeting pogey (menhaden) almost exclusively. During that time we'll castnet a few dozen baits and live line them on the edge of a feed, down to a school of fish congregated on the edge of channels and ledges, or target lone, moving fish in the shallows. In the summer we fish along the state's southern coast. During this time we fish live eels, scup, and even sea bass. We primarily work along the perimeter of ledges and drop-offs. The water is much clearer out front during the summer and proper presentation is more important. All of the terminal tackle we use are as light as possible. We use 30 lb Cortland Line master braid tied direct, via uni to uni or FG knot to 4 foot of 20-30 lb Cortland fluorocarbon leader with a VMC size 5/0 J hook. The goal is to present the bait as naturally as possible. Striped bass can be quite fickle at times so less is absolutely more. When fishing shallower water we use topwater stick baits and subsurface swimbaits to raise fish. I love Rapala X rap subsurface and Williamson Lures surface pro on top. Nothing is better than watching a 40 lb striped bass crashing the surface and exploding a topwater offering!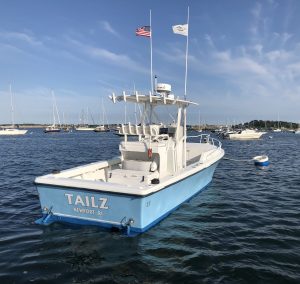 Is it ok to eat striped bass?
The short answer is YES it is ok to eat striped bass fish!
I consider myself a true saltwater sportsman and I try to run my business accordingly. We always promote the catch and release of these beautiful fish, but if customers want to keep their catch I certainly don't oppose it. With the new slot limit in place along most of the east coast, the chances to keep and cook your catch is less, and for good reason. For at least the 2020 season RI is implementing a slot limit of 28"-35". Hopefully, these new regulations will have a positive impact on the fishery in the future. For now, striped bass is still on the menu and continues to be a local favorite. When I was a teen I'd spend my afternoons and weekends fishing for bass from the rocks and selling them to restaurants. The little money I made funded my growing fishing obsession and helped restaurants fill their weekly specials menu. Striped bass is a very mild and flaky meat. When bled and cleaned properly, it's one of the best eating fish around. While it's a restaurant favorite during the summer, it's also a hit at barbecues and backyard events. Grill a filet with skin off, in some foil with a little butter, some lemon, garlic, and fresh parsley. Fresh seafood in the summer is as synonymous with Rhode Island as Del's Lemonade!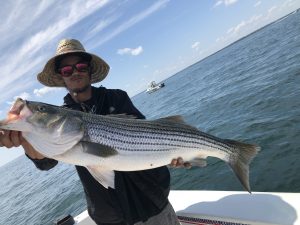 Seven horizontal black stripes uniquely mark the striped bass. The love and admiration I have for these seven stripes have helped make me the angler I am today. The striped bass will forever hold a place in my heart. Rhode Island is home to thousands of fellow fishermen who feel this way. We live in the smallest state, which most others around the county don't know much about. We are bonded to the ocean and the ocean is bonded to us. Dozens of industries in the state are impacted by the sea, which has massive effects on our economy. In the midst of it all, somehow always intertwined, is the iconic striped bass. From charter fishing to commercial fishing, sightseeing to dining, marketing, and advertising to local social events, the striped bass simply defines Rhode Island. This one fish has made a major impact in my life and I'll be forever grateful for those seven stripes.