How to organize your fishing boat
Like most things in life, staying organized tends to be a good habit. On a boat, especially on the ocean, this practice is essential. Most new boats come out of the factory loaded with options from storage to comfort to cleaning and performance. But what if you have an older boat, a custom boat, or simply want a boat better designed to suit your style of fishing? Whether your boat is big, small, fast, slow, open, or enclosed, there is a formula to a successful day of fishing. It all starts with proper organization. At Tall Tailz Charters, our charter fishing boat is a 27′ custom Carolina-built center console with a straight inboard Cummins diesel engine. From the stringers up, she is the definition of custom. The hull number crosses to a company called National Boats, which has been out of business for years. The previous owner completed the "Carolina build" of signature fiberglass over wood construction of the entire deck and v-berth cuddy cabin. When I purchased the boat I took it a step further and customized every last detail to suit my style of fishing. In this article, I'll go over a few tips to help keep things running smoothly while out on the water.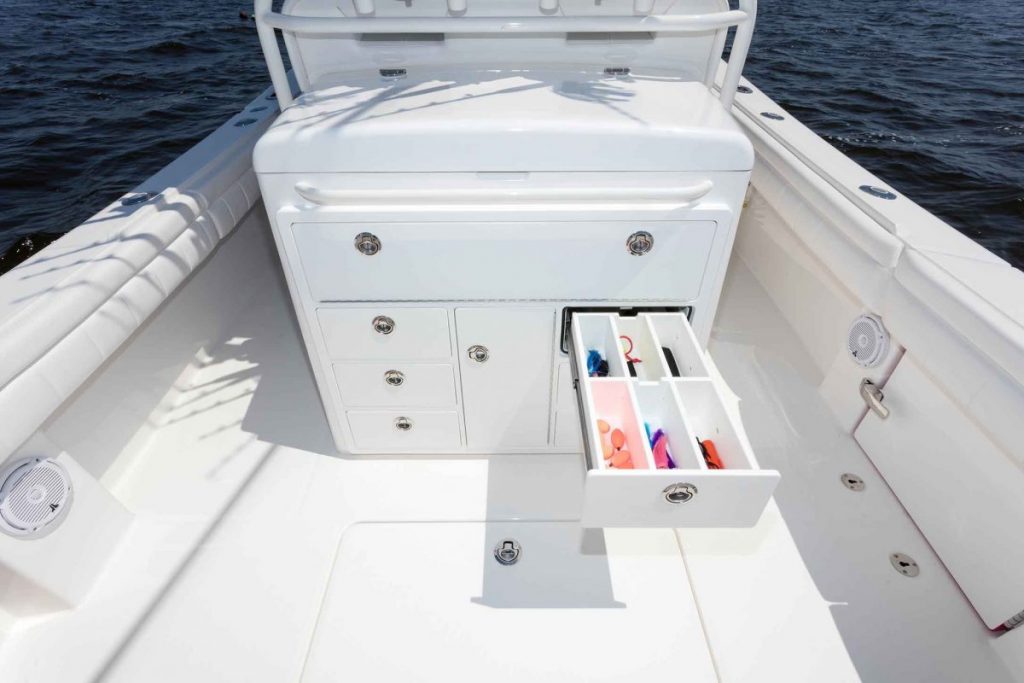 Keeping a clear deck 
There is nothing worse than trying to fight a fish while stumbling over things left on deck. Being able to move around the boat with ease is crucial not just when fishing, but also when docking, undocking, while underway, and cleaning. The smaller the boat, the more complicated this task can be. Let's start with the basics: personal belongings and food and drinks. I tell my charter guests to pack light, bringing only the essentials. More often than not, people overpack and congest the boat with things that simply aren't needed. Absolutely all personal items like clothes, bags, and towels are kept in the cuddy cabin, within reach if needed. Also down below, we use an Engel 30 L soft cooler just inside of the cabin for all food and drinks. This keeps our large Engel 165 coolers on deck filled with ice, dedicated to holding fish only. Some people have things they need on deck like phones and cameras. To keep these items safe and out of the way, I built an "on dash" locker for small essential items. Before we even leave the dock everyone's belongings to have a dedicated place during the trip, keeping the deck free and clear. Once we've disembarked our fenders and lines are stored on clips under the forward port gunwale; again, organized and out of the way.
Prioritizing your gear 
Most fishermen are alike in that they have WAY more tackle and rods than they need. I keep most of my gear at home and take what I need for each trip. I leave my inshore jigging and casting rods on the boat, neatly hanging overhead in my cuddy cabin. I know I will use these rods frequently, so they stay on the boat. Ultralight set-ups, trolling rods, offshore rods, and heavy commercial gear stay home until I know I'll be using them. This is true with tackle as well. The most common inshore rigs and lures I use to stay with the boat. If I know I'll be doing something different like offshore trolling or sharking, I'll bring the appropriate gear. Rather than having a few overloaded tackle boxes on deck, I made a custom tackle center under the helm seat that holds the essentials. The tackle center holds 5 Plano 3700 trays and 2 Plano 3730 trays. The smaller trays hold pre-made rigs and terminal tackle, each labeled according to species, while larger trays hold lures and jigs. I keep the two larger trays in the tackle center based on what kind of fishing we'll be doing that day. Other common lures I may or may not use are kept down below in the same size trays. This way I can swap my lure trays depending on what we're fishing for. Just above the tackle center is an oversized drawer I use for specific items along with a sinker tray. There is a slot for all of my fluorocarbon leader spools and another section for pliers, de hooker tools, Boga grip, and filet knives. This acts as a utility drawer but also storage for specific trips. If I'm sharking or tuna fishing I will fill this drawer with specific items for that particular trip and leave the rest in the cuddy cabin. This again ensures a clear and functioning deck.
Gear storage: active vs. inactive 
The gear I have onboard really has two homes, where they're stored while not in use, or inactive, and where I keep them while in use, or active. I only keep the appropriate amount of rods on deck based on what type of fishing well be doing and how many people will be fishing. I keep the casting rods and jigging rods separate, with some in the t-top rocket launcher and some in the helm seat rocket launcher. Additionally, I will have one or two "just in case rods" on deck in case a school of busting bluefish pop up or we mark a large school of seabass. This way we're always prepared but not over cluttering the boat. Other rods that aren't currently being used will stay down below. For tools to help land fish, I've come up with a special "active storage" that keeps them out of the way but easily accessible when needed. Normally, our large net is kept down below in the cuddy cabin and our gaffs and harpoons are kept along the gunwale. The gaffs and harpoons aren't really in the way while under the gunwale, but at times they can take 15-30 seconds to retrieve. When you actually need a gaff or harpoon this may be too long to wait. To make these essential tools more accessible when they are needed, I added a few clamp clips attached to the bow rail above the cuddy cabin. This way the net, gaffs, and harpoon are completely out of the way for the angler but can be retrieved and used within seconds. This is extremely important when shark and tuna fishing, as you may only have one shot to land a dart or sink a gaff.
Minimize what you must have on deck 
There are times that you'll need to have things on deck. I try to keep these times to a minimum. An example of this is when shark fishing. We bring 4-6 chum buckets for each trip. We keep them in our large 165 Engel coolers until they're ready to be used and replace them with empty buckets as we go. This way our deck is only cluttered for a short time while adding or removing chum buckets. Another example is our egg crate that holds the harpoon line. This is also kept out of the way on the cuddy cabin deck with a heavy-duty quick-connect clip to attach to the harpoon only when the end game is near. Things like fuel bladder bags, oversized fish bags, larger tools, and spare parts are all stored at home until needed, then kept down below and only brought on deck when in use.
Keep safety and survival gear within reach 
The most important items on board are always your safety and survival gear. To comply with USCG regulations, charter boats are required to have a type 1 PFD per passenger on board. I carry 8 of these as well as 4 children type 1's. I also carry more comfortable, type 2 PFDs for kids and adults who choose to wear them. It's a challenge to keep this many PFDs on board, that are easily accessible, without taking up too much space. I've set up all the PFD on a paracord stringer along the port-side of the cuddy cabin. They're attached to the bulkhead with a quick-release clip. If a situation ever arises where someone needs to grab a PFD all they have to do is reach down below, un-clip the paracord line and all of the PFDs will slide down towards the door. As for other safety essentials, I keep a first aid kit, flare kit, EPIRB, and ditch bag inside the center console door. These are easily accessible and completely out of the way. The life ring is mounted on the outside of the center console door in the middle of the boat. The 3 fire extinguishers are kept at different locations but all within reach. One is mounted under the helm seat, another is inside the center console, and the third is kept in the cuddy cabin, mounted to the bulkhead. If an abandoned ship or another emergency situation was to occur, all of the essential gear is accessible within seconds.
Summary 
Every boat and every crew is different. There is certainly more than one way to run a boat and execute a safe and successful fishing trip. However, the first step is always being properly prepared with a solid game plan. Set up your boat in a way that makes the most sense for you and your crew. Keep nonessential items stored neatly off your deck. Encourage your passengers to pack light. Keep the rods you know you'll be using for the day organized according to the type of fishing you'll be doing. Organize your tackle so that its easily accessible when you need it but not clutter the boat. Have an active home and an inactive home for each "tool" on board. Make sure every piece of safety and survival gear is always nearby and let everyone on board know where they are kept. With a few simple steps and guidelines to follow you can always ensure that your boat is set up for success on the water.