Tautog fishing
A 9 to 6 job often becomes highly dysfunctional when you have to make major sacrifices of time, hobbies, family, and friends. You long to go out and explore your hobbies to keep your mind away from work. And one way to do that is by going fishing with your friends. Most people associate fishing as a getaway from their robotic lives that only involve waking up, going to the office, coming back to sleep, and repeating the cycle every day.
The calmness of the ocean makes you forget the complicated office life for a while. It fills your mind with one objective only: to catch lots and lots of fish.
Understanding Tautog Fishing
Most saltwater anglers complain that they don't get enough tautogs. There are two reasons for that: first, tautogs are usually available in bulk during the fall and spring. And second, you need to have a lot of patience to get hold of these beasts. They are not the easiest fishes to catch, thus making your fishing experience more of a waiting game. But if you are hell-bent on catching blackfish this season, keep these tips in mind.
1. Finding Tautogs
Remember, there are two tautog fishing seasons: in spring, during April and May, and in autumn, during October and November. During April and May, tautogs usually move to shallower waters. They generally venture around within depths of 5 to 30-feet. The rule of thumb is to anchor your boat in an area where tautogs like to feed. In most cases, it is around weed beds or underwater rock piles.
The protocol for tautog fishing in autumn is the same as in spring. If you don't get any bites within the first 15 minutes, you should move the boat and anchor it in a different spot. The more areas you explore, the more chances you get to catch a handful of tautogs.
2. Fishing in Autumn
While tautog fishing is comparatively easier in spring because of the fishes' proximity to the top surface, fishing in autumn is all about adjusting the depth. Blackfishes tend to go deeper into the water as the weather grows colder. For example, 20 to 25 feet is the average depth to find tautogs in late September. You may need to go deeper at approximately 30 feet if you want to fish during mid-November. And around Thanksgiving, blackfishes go as deep as 47 to 50 feet.
Usually, anglers wait for a tide change to catch other species of fish. But when it comes to tautogs, you need to be patient and stay put in your boat instead of waiting for the tide change. You should only change your fishing spot if you notice that the fish are not biting your bait.
3. Using Green Crabs as Bait
Green crab is the most common bait to catch tautogs. They are easily available at bait shops at a very reasonable price. Ideally, you should use a Togzilla jig to attach the crab.
First, use a pair of bait scissors to cut off the crab's legs. Use the scissor again to cut the crab's body in half. This not only increases the number of baits but also makes it easier to hook the crab on the jig. Once you divide the body, peel the shell off carefully. Make sure you only use the fleshy part without a single particle of shell left.
Bring the hook and the largest leg socket of the green crab close to the Togzilla jig. Set the hook on the jig through the fleshy part of the crab. The weight of the jig is crucial here. If you go fishing in deeper areas where there is more current, you should use a jig that weighs at least 4 or 5 ounces. Fishing in shallow areas, though, requires a lightweight jig weighing around 1 or 2.5 ounces. Always use a weight that will keep your fishing line straight underneath the boat.
4. Fishing Using Crabs
Tautogs usually roam around at the bottom of rocks and boulders. They hardly come up to the top surface of the water. Your aim here is to present the bait right at the bottom of the rocks. Don't expect the fish to come up and take your green crab bait. When you drop your bait, allow it to reach the bottom instead of reeling it up.
Tautog fishing is usually tricky. They often try to crush the bait with their teeth before feeding on it. You may feel tempted to set the hook immediately after feeling the initial bump on your fishing line. Don't do that. Instead, wait for a few seconds. Let the tautog swallow the bait completely. Then try setting your hook.
It is best to use a 50-pound braided line along with a 50-pound fluorocarbon leader. Tautogs belong to a group of strong fighting fishes. Even if the fishing line seems heavy, don't hesitate to use it because you will need enough strength to pull a big tautog from the bottom. That is why a tight drag and rod are essential to prevent the tautog from cutting off the line and slipping into the water.
Tautog tends to hit the fishing line on the rocks so that the hook comes off and lets them free. But you need to be quick to respond to these bumps. The weight of the drag and rod will prevent the fish from cutting the line. Try to reel as quickly as possible to move the fish from the rocks and boulders. Once you bring it to a shallower zone, you can use your strength to pull it up and capture your prey.
5. Be Prepared
When you're up against tautogs, there is no room to quibble, and you have to be really prepared because these fish get big, really big, and can easily reach 15 to 20 pounds – making them a worthy opponent to show off your fishing skills.
However, just like with any other endeavor, experience alone is no guarantee for success. You need to be prepared, and you must understand all the risks involved (only being, you can lose the trophy fish of a lifetime just because you weren't prepared).
Do not forget that Tautogs are smart and very territorial, which means they know when and where to escape and how to defend themselves. So, you'll need to be ready to outmuscle tautog as soon as you connect with it. You will have to reel fast and continue your struggle to even be in the game.
For those seeking to be prepared, choose a medium to fast action 6- or 7-feet rod or equivalent. If you are fishing on a party boat, consideration should be given to using an eight-foot rod to help you get your tautog baits in the cleaner line.
As for the reel, professionals suggest choosing Shimano Torium for their lightweight but solidly engineered body for efficient gearing and fishing.
6. Boat Placement
Boat placement always plays an important role in the success of the fishery. Therefore, it is best to use electronics to estimate wind direction or drift direction and drop the anchor where you want to start your tautog fishing and then drift back to the original spot as the anchor settles.
And don't worry, Tautogs will let you know if you are on the right spot or not in about 10 minutes. In other words, if you don't catch any bites (even small ones), you'll want to change the spot because wasting your bait won't do any good. Many professionals believe that "chumming" is very effective in luring Tautogs to your position, with grass shrimp being their favorite.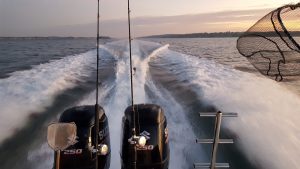 Is Tautog Good to Eat?
Tautog is widely popular for its dense, white meat. And it is one of the tastiest fishes you will ever eat. The meat has a mild flavor. And the fact that tautog isn't scaly makes it easier for you to prepare meals. Usually, they grow up to 3 feet long and weigh approximately 22 pounds.
If you want to sharpen your fishing skills, try tautog fishing this season. Follow the tips above to catch a lot of blackfishes and make your fall thoroughly exciting.
Where Can I Fish for Tautog?
Tautogs are typically found near the bottom and often swim around rocks and boulders.
Understanding that tautogs are quite intelligent and, therefore, can be a difficult fish to catch is essential. So, to improve your chances, you'll want to wait for your green crab bait and jig to go straight to the bottom, and once it's there, you won't want to reel it in. I know, it's tempting not to, but instead of setting the hook immediately after feeling the first bump, you'll want to give tautog time to swallow the bait.
Can You Catch Tautog At Night?
Yes, you should be able to catch tautogs depending on where you fish and the bait you place in front of them. Often at night, tautogs sleep near rocks, and sometimes you may find them spawning, at which time they will not bite anything.
What Does Tautog Taste Like?
If you haven't been fishing for tautog, you certainly should be at the fish market for buying it, as many enthusiasts and food professionals are in consensus that tautog is among a handful of fish that can rival winter flounder for taste. In other words, these territorial fish taste really good and have dense white meat, making them worth fighting for.
Are there any good Fishing Charters that offer this type of fishing?
Yes, Capt. Mike from ArchAngel Charters and Capt. Connor from Tall Tailz Charters are both experts in Tautog Fishing, the know the exact locations to get the Blackfish (Tautog) with Green Crabs. We know from experience they will test new techniques which is a blast to see first hand.