For some anglers, albies are only useful as bait for marlins and sharks. Fishermen take advantage of the fish's tough muscle which is suitable for any kind of hook as a lure. Due to the tough muscle, albies bait will stay on the hook for as long as it takes the fish to get to it. Another advantage is using albies as bait is the scent. The false albies' scent attracts fish and improves anglers' chances of having successful outings. 
Aside from using albies as bait, can you eat false albacore? Is it edible? And even if it is edible will it taste as sweet as other fish species? Read on to find out.
Is false albacore edible?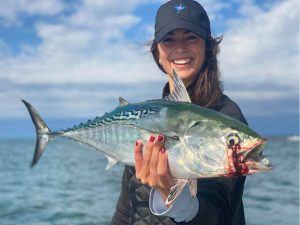 False albacore is not the best fish one would want to eat. However, when some anglers subject it to extreme cooking procedures, they consider it as edible as every other fish. This shows that people have personal preferences when it comes to taste. While some fishers will never eat the fish, some will eat it because you see every other fish that just needs to be cooked right. The same thing applies to bluefish and striped bass. Some anglers do not eat bluefish because it does not taste right to them but others prefer striped bass. And quite likely, some people prefer striped bass to other fishes. 
Check out: How Long Does Low Tide Last?
People who eat false albacore bleed them out immediately they kill it. They put them in a bucket of water with ice to preserve their oil content from going bad. Afterward, they filet them, while some people will have them in tuna-style four parts, others cut them into desired pieces. There are many creative foods to make with false albacore. Grilled Albie is delicious food for some anglers. Here is how to make it:
Ingredients
Albie

Ginger

Vinegar

Soy sauce

Garlic

Sriracha
How to make it
Prepare a marinade with ginger, vinegar, soy sauce, garlic, and Sriracha. 

Cut the Albie into desired pieces. 

Put the pieces in a zipper bag, along with prepared sauce to enhance its taste. Let it stay in the refrigerator for an hour.

Sear the fish in a pan for less than 5 minutes. 
With these few steps, they have the false albacore tasting like long-fin albacore. Some people would serve it with vegetables and noodles. 
Is bonito good eating?
Bonito belongs to the family Scombridae and makes good food for most anglers. There are different forms of the fish in different areas and oceans. And it is delicious in many homes. Some people consider it a sweet delicacy if prepared properly. There are many creative recipes with bonito in the center. There are many ways to prepare bonito. It goes well with soup and stew and can be eaten with a wide range of foods including rice and potato. One interesting bonito recipe is grilled bonito. It is a simple recipe that takes less than 30 minutes to make. If prepared well, it is bonito at its sweetest. Here's how to make it:
Ingredient
Bonito

Black pepper

Cooking oil (olive oil or any other type)

Lemon juice

Garlic

Smoked paprika
How to make it
Cut the Benito into the desired pieces

Make a mixture of black pepper, garlic, lemon juice, paprika, salt, and oil in proportionate quantities.

Rub them on the bonito slices and arrange them in a pan

Cover with foil pair and refrigerate for 10 to 15 hours

Sear the fish over the grill for 5 minutes 

Serve with added oil.
There are different creative ways of achieving grilled bonito. Some people have different ingredients for making the sauce. What matters is that the bonito comes out delicious.
Tips for making a good meal out of false albacore and bonito
Ensure to bleed these fishes on time. If you want to get the best flavor from them, bleed them out immediately after catching them. 

It is essential to keep them in a bucket of ice immediately. Icing will preserve the oil in them. These fishes go bad on time. 

Given the peculiarity of the fish, it is advisable to read other experts' methods of cooking them before you cook yours. You might have creative ideas on how to get a sweet dish out of them, but a tip from someone else is always helpful.

When searing the fish, ensure to give equal attention to both sides to ensure you have a well-cooked fish.
Frequently Asked Questions 
Can you eat false tuna?
Yes. If you take your time to prepare it creatively, you can eat false tuna. For some people, extreme hunger is the reason why someone will want to eat false tuna. However, some people say otherwise because you take your time to prepare it.
How do you release false albacore?
If your intention of catching false albacore is to release it, you should use a barb-less hook. Remove the hook from its mouth gently so that it does not get hurt. If you are at the seashore, release the fish gently into the shallow waters and let it swim off, instead of throwing it all the way into the middle of the water. 
Are bonito and false albacore the same?
Bonito and false albacore belong to the same Scombridae family and are often mixed. Both fishes look somewhat alike but bonito has smaller bones.
Conclusion
When it comes to food, people's opinions are subjective. This is the same with false albacore and bonito fishes. While some anglers consider these fish vile in taste, others think that they make good dishes like other fish species if they are cooked especially. There are many creative ways to cook Albie and bonito to make decent dishes out of them. Some anglers take their time to cook albies because the fishes attack baits with such vigor that leaves them injured and less likely to survive a catch. However, if anglers use barb-less hooks and handle the fishes with care, there will be more albies fit for release.