Fishing is a mind-blowing water sport for several reasons but you need some things in place to enjoy the sport. Top of the list is a boat. Considering the regulator vs contender boats, you need to know which suits you best. To this end, a lot has been said about what anglers stand to gain or lose working with these two. We have done quite a lot in explaining regulator vs contender and you should keep
reading to stay well informed.
You need to get the right fishing boat if you must get a fishing boat in the first place. To ensure that you end up with the right one, you would do well to hear what we know about both the Contender and the Regulator.
Is the Regulator Good Enough for Fishing?
It is a delight to have and use the regulator for your fishing expenditure as an angler or fisherman of any sort. This is because of the many perks that come with using this one-of-a-kind boat. We would not run out of things to talk about if we had to reel out the amazing features of this boat. The reason is simply that there are many of them. Some of these amazing features include the following:
Wide Range of Amazing Choices You Can Make
The Regulator brand is dead serious about meeting the needs of anglers by making available boats that beat imagination year in and year out. At one point you think you have seen it all until they come up with another boat that is an upgrade with breathtaking features.
In plain terms, this brand has established itself for reasons such as having a wide range of boats that suit anglers and boat lovers at large. You are most likely to find something that ticks all or most of the right boxes if you take a good look at their boats. Speaking of boats by the Regulator brand, some of them include:
Regulator 23

Regulator 25

Regulator 31

Regulator 28

Regulator 34

Regulator 37

Regulator 41
These are just some of the brand's one-of-a-kind fleets as there are others as well. For instance, there are some boats under something they term XO Series.
Amazing Results from Outsourcing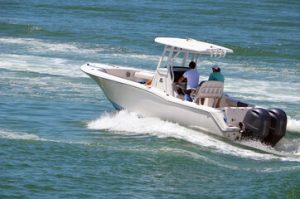 Understandably, anglers interested in getting a boat from the Regulator brand ask questions. One of the questions prospective and even established buyers ask is why Regulator is considered one of the best in the business of making (especially fishing) boats.
From what we have gathered, they are very high up on that list because they outsource certain tasks to some very good third-party companies. For instance, they have a working relationship with amazing brands such as Yamaha and Garmin.
These third-party brands help in various ways. For example, little wonder the boat's engine is great in every sense of the word as Yamaha takes charge of this.
How About the Cost of Getting Regulator Boats?
Judging from many people's standards, Regulator boats do not come cheap. They are further up in cost than many other alternatives. Be that as it may, you can be certain that every cent on the dollar spent getting boats from this reputable brand will be worth it.
This is considering how the brand has mastered the art of making boats that offer functionality when fishing and luxury of the highest order. They have the sort of boats that would make you utter words like "what else could I ask for in a boat?". Anglers can be sure that they are putting their money to good use if/when they get any boat from the Regulator brand.
Is the Contender Good Enough for Fishing?
As far as getting the best kind of fishing boat is concerned, there are not many brands out there that can stand up to Contender. They have lived true to their name – Contender; as major contenders in the business of making fishing boats that sweep anglers off their feet. A few of the perks that people get using boats from this brand are:
Safety
Fishing is an amazing water sport for so many reasons. However, it needs to be as safe as possible as this is one thing that has informed how this brand makes its boats. You might want to know that most boats by Contender are close to unsinkable. A lot goes into the making of their boats to make it this way.
Speed of the Highest Order
We have people who could argue about the last point despite how baseless that is. However, this point is what wins the heart of so many anglers. It is about how good Contender boats are in terms of speed.
There are very few boats (if any) that come close. This is about marine technology at its perks and explains why this boat is fond of taking the lead in many competitions. Do you want to take the lead as an angler? You probably might have to start by getting the right boat from the Contender brand.
Regulator Vs Contender Boats – Which Is Better?
Making an outright choice between both boat-making giants is not an easy task. This is because they have amazing perks. On this note, what you should know is that:
The Contender Does Better with Speed
The contender might just be your dream come true if you are very particular about speed. This is because it is one hell of a boat built for speed amongst other things.
The Regulator Is Better in Terms of Amenities
The Regulator brand does better in terms of amenities. How they have designed and constructed their boats to offer luxury and functionality is breathtaking. The cockpit design, use of space, and access are top-notch.
The Cost to Performance Ratio of Contender and Regulator Boats Are Impressive
You need to ask very important questions when you hear what you have to pay for a boat. One such question has to do with how the boat fares in terms of cost to performance ratio. This simply means how much value the boat offers in relation to its price.
About this, you should know right away that both Contender and Regulator boats are very impressive in this regard. They offer so much value and getting either of them is putting your money to good use, especially as an angler.
Conclusion
Buying and using the right boat for your fishing expedition as an angler is important. This is why you need to be aware of the regulator vs contender boats, their options, and what they offer. To this end, the article has discussed Contender and Regulator boats and we hope that you make the right choice when you need to get and/or use a fishing boat.Choosing A Good Fishing Boat