Star tron vs Stabil
As a boater, one thing you need is a smooth-running engine on your boat. If you go out fishing or you compete in a tournament, you sure want to have a smooth outing and win your contest. This is why you need to keep your fuel fresh and your engine running well. Star Tron and Stabil are great for protecting your fuel and ensuring that your engine runs smoothly. However, Star Tron vs Stabil, which is better?
Both Star Tron and Stabil are fuel stabilizers and protectors. They are great for any engine. Both products serve the same purposes with just a slight difference. The question is, between both products, which should you go for? When it comes to deciding which is better, Stabil or Star Tron, you have to look at what each has to offer. What is Stabil and what is Star Tron? And what are the features of each of these? Read on to find out.
Star Tron vs Stabil: the right choice
Before you know what the right choice is between Star Tron and Stabil, you will need to know about each product and what they bring to the table. We will look at a review of both products and see which one makes the best fuel stabilizer.
Star Tron: review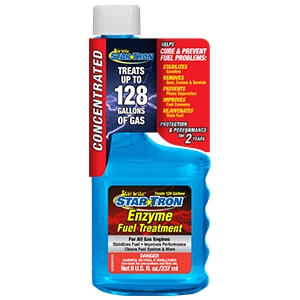 Start Tron is a fuel stabilizer from the stables of Star Brite, a company that manufactures motor oils, fuel additives, and other related products. This company is owned by boaters who have been in the business for a long time. The Star Tron Enzyme Fuel Treatment is only one of their products.
One reason why Star Tron is a great choice of fuel Stabilizer is its usability on a large range of engines. It is built to Stabilize fuel on any vehicle and engine like those on boats, motorcycles, cars, etc. This means if you have a number of equipment or vehicles of different kinds, you can protect the fuel in them with just a bottle of Star Tron. It works on all kinds of fuels, whether it is pre-mixed or ethanol-blended. When used to stabilize fuel, it can stay for a long time, like 2 years.
Star Tron is also effective for protecting the carburetor from clogging. When carbon and gum form, it can affect the engine. For instance, gum can prevent the engine from working because it can impact the fuel injector as well as the carburetor and inhibit the flow of fuel through the system.
The method of using this product is easy. All you have to do is to pour a portion into your tan before you add fuel. The product is available in different sizes.
You can get Sta-Bil directly from amazon right here
Stabil: review
Stabil is also a fuel Stabilizer. It is manufactured by STA-BIL. This company is reputable for making some of the most durable fuel additives suitable for use in any vehicle and engine. They have been in business for more than 50 years and the Stabil product has been thriving.
Stabil is created with petroleum distillate, chemicals, and additives that work on fuel to keep it stable and fresh for a long time. The Stabilizer is effective for keeping your fuel stable for 2 years. The product works on any kind of fuel including the ones blended with ethanol.
Stabil is effective for making your engine run smoothly because it frees up the fuel injector and ensures that the fuel running through the system is free of varnish and gum accumulation. It also keeps water from your fuel to protect the engine from ethanol damage. This feature also helps to protect your engine from corrosion.
Star Tron vs Stabil: which is better?
From the review above, it is evident that both fuel stabilizers are great for your boat and other vehicles. However, to make a choice between both, you have to consider some features:
Engine protection
Ethanol damage is one challenge that engines face. Both products are effective for protecting your engines from damage. They prevent water from getting to the engine and causing corrosion.
Longevity
Both products can last for a long time, even up to 2 years. However, users have observed that Star Tron lasts longer than Stabil. Also, while Stabil is most effective for keeping your fuel and engine fresh and well-stored during the winter season, Star Tron is effective for the same purposes at all times of the year.
Fuel restoration
This is where Star Tron beats Stabil. Star Tron is great for restoring old fuel, a feature that Stabil does not have.
Making a choice
From the foregoing, both Star Tron and Stabil are great for Stabilizing fuel and preventing engine damage. Both products are great for ensuring that your engine runs well and there is no clogging, rusting, and other issues. They are also effective for ensuring the longevity of your engine. However, Star Tron has an additional advantage of refreshing old fuel. Considering this edge, you might want to go for Star Tron.
FAQs
Does Star Tron Stabilize fuel?
Yes. Star Tron is effective for stabilizing all kinds of fuel.
Which fuel Stabilizer is best?
There are many great fuel Stabilizers in the market. Star Tron and Stabil are some of the bests in the market. They effectively keep all kinds of fuels fresh, prevent rusting, and ensure that your engine runs well.
Can you use too much Star Tron?
Are you asking yourself does startron work? There is no such thing as using too much Star Tron. The amount of Star Tron you put in your fuel tank cannot impact the fuel or your engine negatively.
Conclusion
Do fuel stabilizers actually work? Fuel stabilizers are chemicals that can be added to gasoline to help prevent the fuel from breaking down and going stale over time. When gasoline is stored for an extended period of time, it can start to break down and form gums and varnishes, which can clog fuel lines and carburetors, and reduce the engine's performance. Fuel stabilizers work by helping to prevent these breakdown products from forming, which can help keep your boat's engine running smoothly and efficiently.
There are several different fuel stabilizers on the market, and they can be effective at helping to prevent fuel from going stale. However, it's important to use fuel stabilizers according to the manufacturer's instructions and to make sure that you are using a product that is specifically designed for use in boats. Some fuel stabilizers are only meant to be used in cars or other land-based vehicles, and may not be suitable for use in boats. Are you using diesel fuel in your diesel engines? Some stabilizers don't work great in non ethanol gas tanks. These are the questions you need to ask while reading.
If you are thinking of getting a fuel stabilizer, you can get either Star Tron or Stabil. Both products are effective for preventing your fuel from ethanol damage and effectively stabilizing the fuel. Both products are good for any kind of fuel, whether mixed or not, and engine. If you have several vehicles, a bottle of Star Tron or Stabil can be helpful for all of them.