Big Game Fishing

Big game fishing is an exciting adventure that anglers eagerly look forward to. The event is both recreational and challenging, and it focuses on catching big fish such as tuna, marlin, wahoo, Mahi, sharks, etc. Fishermen consider big game fishing as a sport, as it requires having the right skills, tools, bait, and a bit of luck.
Over the years, game fishing has become one of the popular events with followers or fans all over the world. The target is on big species categorized into billfish, large tunas, sharks, and smaller game fish. There have been several massive fish caught, and photos and videos flooded the internet and pages of newspapers across the continent. The big fishing game continues to gain popularity.  Check out our Cape Code Fishing Report here
What Is The Largest Game Fish?
Over the years, we have talked about catching a wide variety of fish such as marlin, swordfish, broadbill, sailfish, bluefish, yellowish, big-eye, wahoo, dolphin fish, mako, tiger shark, and other species of gamefish.
The statistics were provided for reference. The most recent largest game fish caught was a 461-pound salmon shark caught by Thomas Farmer in 2009.
A quick rundown of the largest game fish includes:
May 2006 – 1,280-pound Great Hammerhead shark caught by Bucky Dennis
March 2004 – 1,785-pound, 11-ounce Tiger Shark caught by Kevin James Clapson
July 2001 – 1,221-pound Mako shark caught by Luke Sweeney
Nov. 2002 – 1,298-pound Sixgill shark caught by Clemens Rump
February 1992 – 1,402-pound 2-ounce Atlantic Blue Marlin caught by Paulo Amorium
October 1979 – 1,496-pound bluefin tuna caught by Ken Fraser
August 1969 – 1,560-pound black Marlin caught by Alfred Glassell Jr.
October 1987 – 1,780- pound 9-ounce Green land shark caught by Terje Nordvedt. And that is the largest Greenland Shark ever caught.
Meanwhile, a 2,664-pound white shark was caught by Alfred Dean on April 21, 1959. And that is the largest game fish ever found in history.
How Do You Catch Big Saltwater Fish From Shore?
Catching big saltwater fish from shore is fun, and fishermen or anglers who are into big game fishing RI participate with the hope of catching one of the biggest fish in history.
Saltwater anglers need the right fishing gear, which is crucial to the success of the event. Besides, specific techniques must be employed for successful saltwater fishing. It may feel like there are limitations to catching game fish from shore; however, that isn't always the case.
You will need high-grade saltwater shore-fishing gear, especially a rod of at least 8 ft in length and rated 50-130 lb with a spinning or conventional reel. Shimano Stella and Daiwa dogfight are popular models in big game spinning reels while Shimano tiagra and Penn international dominate conventional options.  Also required is a heavy line to match your rod and reel. Breaking strength of line to use on big game species can range from 50 lb braid or mono to 200 lb, while leaders can require even more. Furthermore, you need a combination of live and artificial bait. Suitable saltwater live fishing bait includes shrimp, squid crabs, clams, baitfish, and mussels.
With the right setup, you are good to go. You only need to know the right time to head to the shore for sports fishing. The type of fish you are aiming to catch will determine when you will go to the shore. The good times, however, are the dawn and dusk, but the dawn is the best time.
Meanwhile, high and rising tides are the best times for almost all fish. A new moon and full moon proceed the days with the highest tides in any month. Usually, three days after the full moon are perfect for catching big game fish. Anglers' efforts are generally rewarded during the four-day window.
How Do You Fish for Sport?
If you wish to fish for sport, you can arrange with your friends for a competition. Meanwhile, you need to be appropriately equipped for the adventure. You need rods, reels, lines, baits, and hooks. You can choose to fish on the shore or use a boat for deep water fishing.
The two popular sport fishing options are freshwater and saltwater fishing. Popular fish being targeted include tuna, marlin, and sharks for saltwater while salmon, bass, snook, and catfish are freshwater fish being targeted. Points are awarded based on the weight of the fish caught and the strength of the fishing line used. Where the strength of the fishing line is used to calculate scores, a competitor with a weaker line can have more points if the weight of the fish caught is close to a participant with a strong line.
What Are The Four Types of Game Fish?
The four popular types of game fish usually targeted include:
Mahi is also known as Dolphin or Dorado
Wahoo also called Ono
Tuna, like bluefin tuna, and
Marlin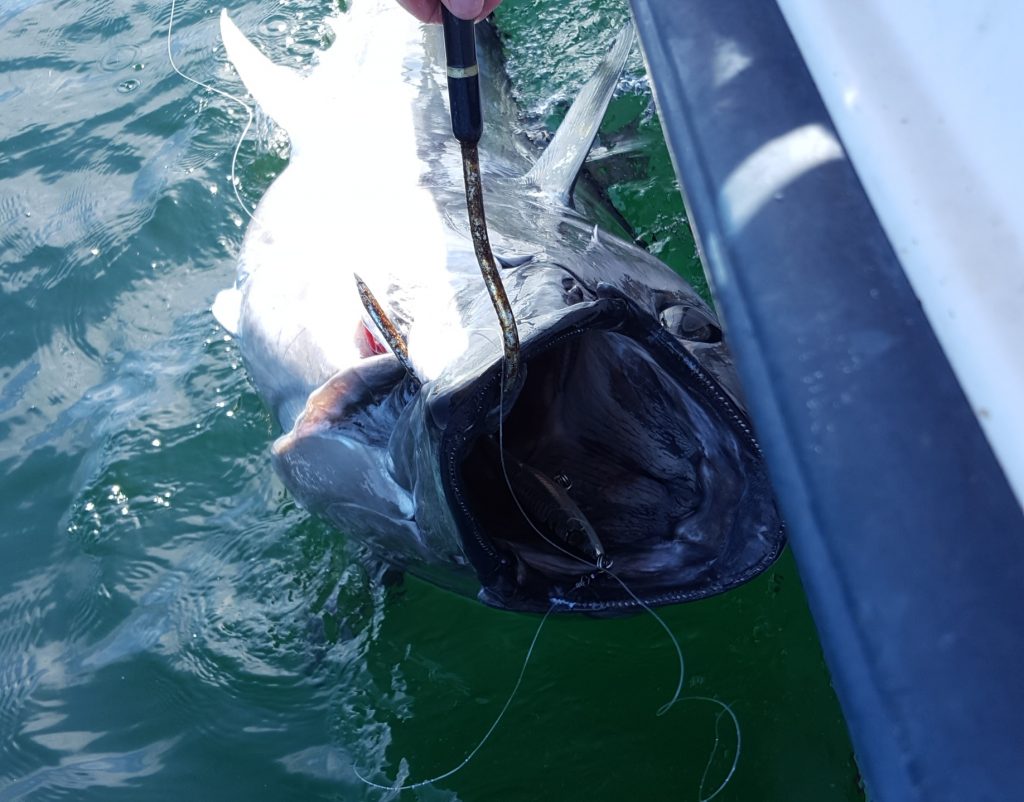 The above game fish are usually the target during sports fishing. If you are thinking of participating in this type of fishing, start preparing your fishing gear and read up on the techniques to catch big game fish from shore.
Thank you to Capt. Connor of Tall Tailz Charters for the modifications of this article.