One of the most common questions anglers ask is the size of a boat appropriate for fishing, especially if you are talking about rough waters. For some anglers, it is a budget factor. Small boats are more affordable than bigger ones. For some other anglers, it is a matter of choice. Some people prefer to have small boats where they control everything and have total control of their fishing. Sometimes, smaller boots are better manageable in rough waters than bigger boots. The bottom line is, just about anybody can get into the water. But knowing which is best for rough waters is the issue. This article discusses the best small boat for rough seas. It also discusses the necessary tips to get the best out of fishing rough waters with your small boat as well as maintaining safety.
Best small boat for rough water fishing
there is no restriction on the size of what you can use for fishing in rough waters. As such, a 17 to 22 ft boat can take you fishing and bring you back even if the water is rough. Once you have the right tips to maneuver and the boat has a good quality and design, you have no troubles. Here are some of the best small boats for fishing in rough waters:
Pathfinder 2200 TE
This 22 feet and 2 inches length boat let you fish in rough waters without having to bother about losing your life. You can use it for offshore and inshore fishing. This boat is perfect for you if you like fishing in calm waters. If you want to go fishing when the water current is on the rampage, this book makes a perfect pick for its size. 
The whole design of my boat is an essential area of consideration when we are talking about rough Waters. And this is one area where this pathfinder 2200 TE is apt. 
Sea Born FX22 Bay Sport
This 21-foot 9 inches length boat is one of the most reliable and capable boats for handling rough waters. The boat is made of durable material, making it reliable in the face of rough waters. The scupper on this boat drains excellently and you can also rely on the transom height to keep water at bay.  The engine is sound enough to get you into the waters and back without the need for an additional engine that will add unnecessary weight.
17-foot Boston Whaler Montauk
The Boston Whaler Montauk is another reliable small boat for rough water fishing. This boat satisfies the safety requirements for a boat to be suitable for rough waters. The hull is built to withstand the test of the waters. This is one of those boats you can trust to keep you dry with its efficient scupper and impressive transom height. If you have the right amount of fuel onboard and are skilled enough, you can have a successful rough water outing with this boat.
19-foot Midland
This boat is quite small compared to the sizes of boats most anglers would comfortably take out for fishing in rough waters. However, it is no less competent. It has a sound and reliable engine that is built for the line haul. The hull on this boat is apt and the scupper is efficient. It also ticks the right boxes on material, design, and construction.
How to make the best of small boats for rough waters
While there is a small boat designed to play rough seas and still argued you a successful outing, making the best of them depends on some essential areas, including:
Fuel Capacity
Fuel capacity is essential when it comes to picking a small boat for rough Waters. If you plan to use the boat safely, you need one that can contain enough fuel for the ride. 
Battery placement
If the battery in the boat is located, say at the transom, for instance, it can get wet and become a problem. Boots with your batteries located under the console make for great choices. If you have a battery placement to write in addition to enough fuel, your small boat can take you to places and bring you back safely.
Flotation
Before your small boat can get certified to take you to rough Waters, the flotation on it has to be impressive enough. Once you have the hull right, you are good to go.
Having other necessary safety equipment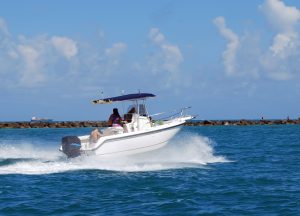 Every outing necessitates taking safety precautions. More so when you are using small boats on rough seas. It helps to take a VHF radio along when fishing rough waters. A VHF that is DSC and GPS enabled is best. Since you cannot always rely on your GPS, a compass is also necessary. A spare battery comes in handy as well. Your battery might die when you still need it. Then you will need to switch to the other. Having polarized sunglasses is also advised as it will keep your eyes protected from UV rays. 

Frequently Asked Questions
Which boat is best in rough water?
There are many boats you can use in rough water. However, the ones suggested here are some of the best.
What is the minimum size boat for the ocean?
There is no strict limit to the size of boats you can use for fishing the ocean. While large boats are great, the small ones reviewed here are also great. 
What is the most stable small boat?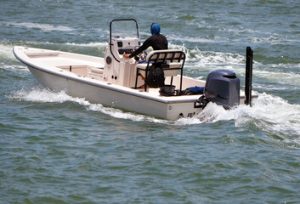 All the small reviews here are reliable as they tick the necessary safety boxes for fishing rough waters. You can count on the Pathfinder 2200 TE to meet all your rough water fishing demands.
How to get the best fishing charter in Newport Rhode Island?
Conclusion
Small boats can withstand the rough waters as much as large boats if they meet the necessary safety standards. With efficient scupper and transom, the right hull, and apt design and construction, the small boats listed here are great for rough water fishing. It also helps to take on some necessary safety equipment like an extra battery, VHF radio, sunglasses, and so on.